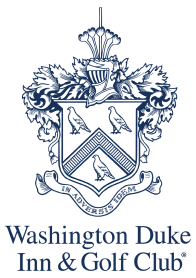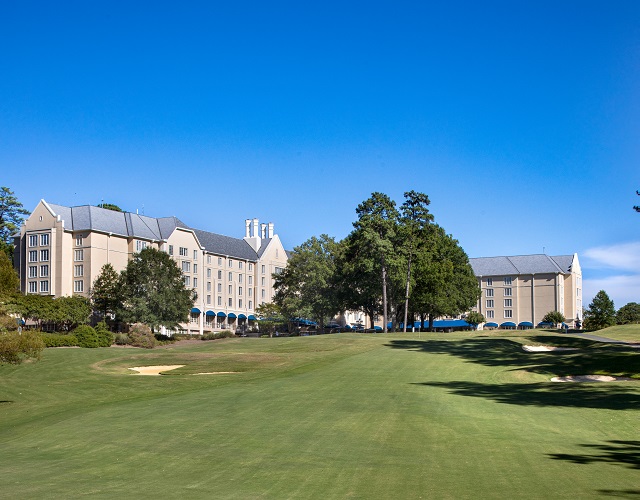 Washington Duke Inn & Golf Club
Nestled on the campus of Duke University, this AAA Four Diamond property features 271 elegantly appointed guestrooms and suites with a spacious conference center ideal for special events. Home to the beloved Bull Durham Bar and award-winning Fairview Dining Room with sweeping views of the Duke University Golf Club, it's easy to see why employees call the Washington Duke Inn & Golf Club a home away from home.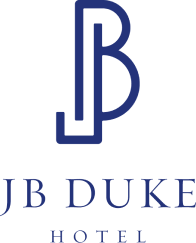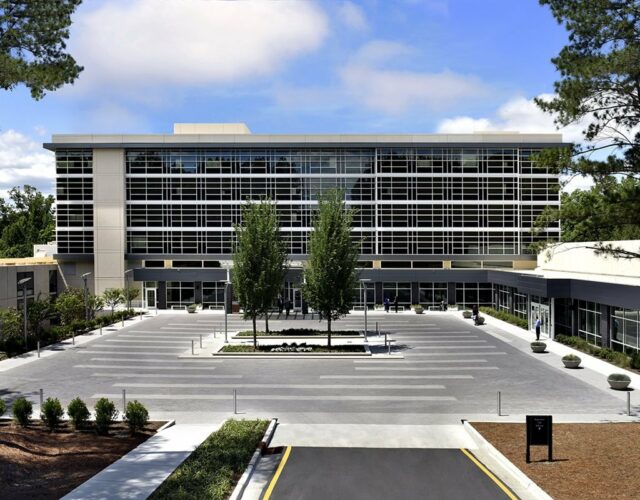 Located steps away from Duke's storied athletic facilities and adjacent to the university's top-ranked professional schools, the AAA Four Diamond rated JB Duke Hotel offers a sleek and sophisticated backdrop for travelers and employees alike. With over 25,000 square feet of state-of-the-art meeting space, including a 5,400-square-foot ballroom, it is an attractive venue for academic and corporate meetings and events.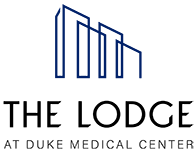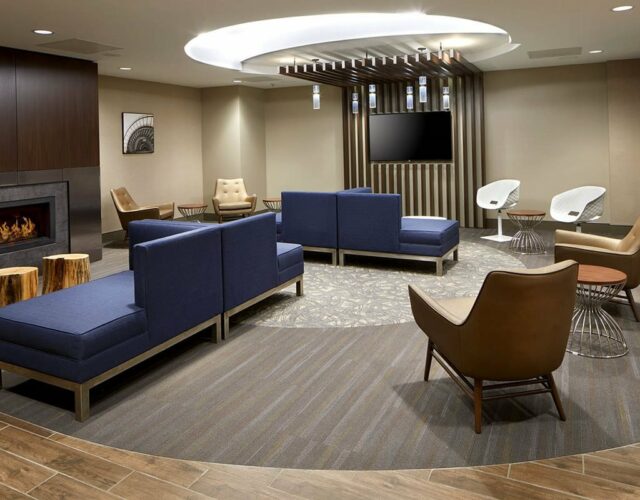 The Lodge at Duke Medical Center
With spacious, modern rooms, The Lodge offers accommodations designed for maximum comfort, convenience and accessibility. Located across from the world-class Duke Medical Center and Durham VA Medical Center, The Lodge employees take pride in providing personalized, top-notch service to visitors and guests.
Building a more inclusive world, one experience at a time
At our trio of properties, we take great pride in celebrating diverse cultures, values, and perspectives of our team members and guests. We are equally committed to the principles of excellence, fairness, and respect for all. We strive to provide safe and welcoming spaces that nurture a sense of well-being. Forging and maintaining an inclusive environment fuels our dedication to service and allows us to make meaningful connections with everyone, whether an employee or guest. Together, we will enjoy a positive and hospitable community for all.
Video transcript: Duke Hospitality Compilation Video
00:02 - [Woman] It's really fun to have this trio of hotels.
00:06 - With the Washington Duke Inn, the JB Duke Hotel,
00:09 and The Lodge at Duke Medical Center,
00:11 there's so many opportunities to find where you belong
00:15 and where you fit in and what you're really good at.
00:18 And you have people who want to help you.
00:19 You have people who genuinely care about you
00:22 and care about your career and your future.
00:25 - We're looking out for people and making sure that
00:28 they don't get burnout. That means a lot to me.
00:31 - We want the very best employees and we want them
00:33 to be happy because that comes across to our guests.
00:37 We are very proud.
00:39 We've always had a really rich benefit program.
00:41 We believe in investing into, taking care of our employees.
00:45 - Because we actually have resources here
00:47 that encourages us to, you know,
00:48 have a healthy state of mind, be physically healthy,
00:51 and also being able to learn, so when we make mistakes,
00:54 we continue to grow.
00:56 - Opportunities are always offered.
00:58 Promotions are always there.
01:00 You just say, "Hey, I think I'm ready for this position."
01:08 This is a great place to work.
01:10 Not just because it pays my bills,
01:11 but I enjoy the atmosphere, the people, the guests,
01:16 I love this place.
01:18 - They give you all that you need because you are
01:21 giving to them what they need to do a good job.
01:24 - We're trying to build a different mentality
01:28 and culture, and that's not something you see everywhere.
01:32 I have a family, I have two young boys that,
01:35 being able to be with them is special.
01:40 - [Woman] You can't be here without feeling really proud
01:42 of what you represent.
01:44 (gentle music)
Department: Food & Bev
Location: Washington Duke Inn & Golf Club (Durham, NC)
Department: Sales
Location: Washington Duke Inn & Golf Club (Durham, NC)
Department: Food & Bev
Location: Washington Duke Inn & Golf Club (Durham, NC)
Medical (w/ FSA) (HRA)

Eligible after 30 days of employment

Insurance

Life, short-term and long-term disability

Generous PTO & Paid Holidays

8 paid holidays, including birthday

401k +Match

Enrollment after 6 months with yearly match

Onsite Perks

Free parking, shift meals, beautiful setting

Wellness & Development

Health-focused resources, upward growth and training
Diverse members, one common goal
Our genuine concern is for the wellbeing of each team member. We believe that hard work should be well-rewarded. Dedication to supporting one another is at our core. Learn why our employees call our trio of hotel properties "home."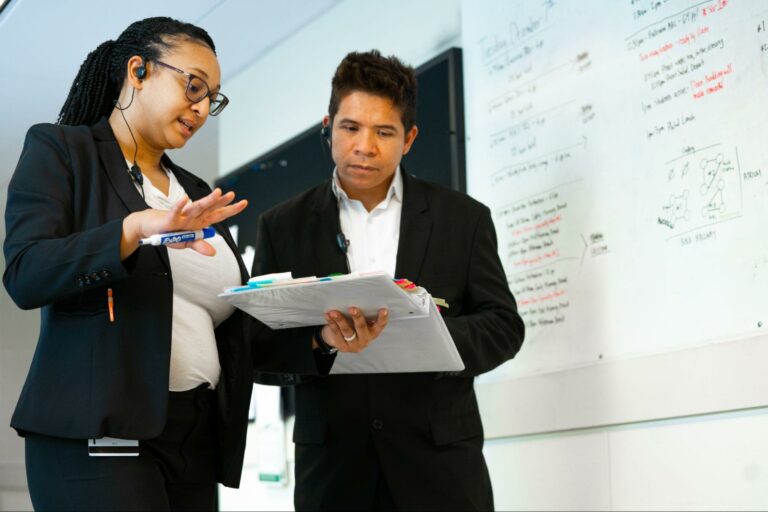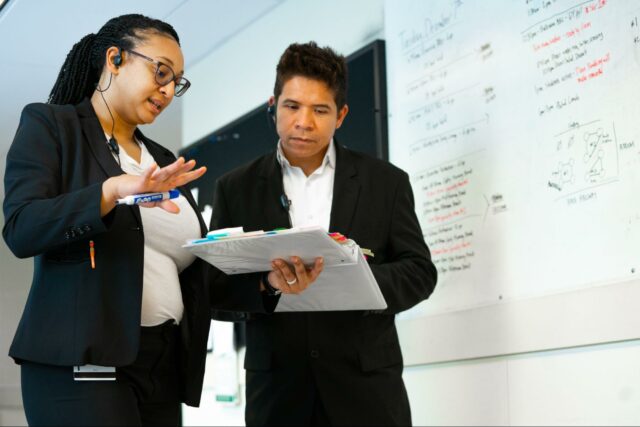 We commit to nurturing our most valuable asset: our employees. Our pledge goes beyond words; it's a dedicated promise to invest in the growth, well-being, and professional development of every team member. We understand that by fostering a supportive environment, providing continuous learning opportunities, and recognizing and rewarding hard work, we empower our employees to reach their full potential.
This commitment is not just a part of our ethos; it's the driving force behind our success. Together, we will continue to invest in our employees, ensuring a future where their talents are not just appreciated but celebrated, and their career paths are not just defined but limitless.
Search and apply for your perfect role by browsing our opportunities here.